Project Name: China Hunan International Tourism Festival and Liling International Ceramic Industry Expo Exhibition
Product name: cabinet type 55 inch 3*3 LCD splicing
Splicing narrow side: 55 inch ultra-narrow side 1.8
Purchasing unit: Hunan Zhiyi Robot Co., Ltd.
Address: Hunan China Ceramic Valley International Convention and Exhibition Center
Installation date: July 5, 2018
The China Hunan International Tourism Festival and the Liling International Ceramic Industry Expo will be held from September 25 to 30, 2018; for this reason, Hunan Zhiyi Robot Co., Ltd. has prepared for more than 3 months and is ready to fully display its own machines in this exhibition In order to help more companies achieve mechanization, intelligence, and save costs, the exhibition needs high-quality large screens to better display products. For this reason, Hunan Zhiyi Robot Co., Ltd. purchases and cooperates with Winbond splicing screen manufacturers After communication and understanding, I feel that Winbond has direct sales, affordable prices, door-to-door installation and training guidance services; resolutely decided to buy Winbond 3*3 cabinet-type 55-inch LCD splicing screen to receive more customers at the exhibition.
Winbond's LCD splicing screen is widely used in government agencies, educational institutions, enterprises, restaurants, hotels, security monitoring, highways, railways, subways, commercial exhibitions, TV studios, etc.; 100% Samsung original authentic, ultra-high-definition screen, factory direct sales, price Preferential, door-to-door installation and training will completely solve your problems


Site installation pictures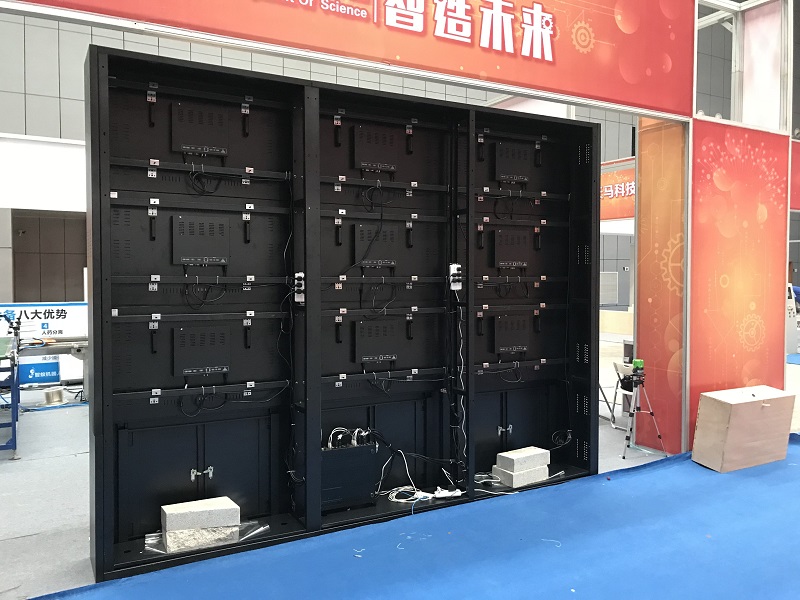 The display effect of Winbond's LCD splicing screen on the left VS the display effect of the minimum pitch p1.2 on the right led