Guangzhou Jixiang Technology Co., Ltd. (referred to as "Techxiang Technology") is a city-level Internet of Things technology company under the world's top 500 central enterprises, China Electric Technology; The Seventh Research Institute of Electronic Technology Group Corporation has long been engaged in the core team of military communication electronics research and development work and the military manufacturing department is based. Persons with more than 20 years of senior technology and management background serve as scientific research and technical management personnel; the main core product applications include smart home lock solutions, smart rental management platforms, smart campus applications-smart school badges and other narrowband IoT related fields.
With the rapid development of the company, Jixiang Technology has become one of the best in the industry, and its products and services have won unanimous praise and recognition from users. Recently, Jixiang Technology has demonstrated its independent research and development to better customers and partners who visit the company. The full set of smart terminal solutions introduced the LCD splicing screen as the large display screen in the company's showroom.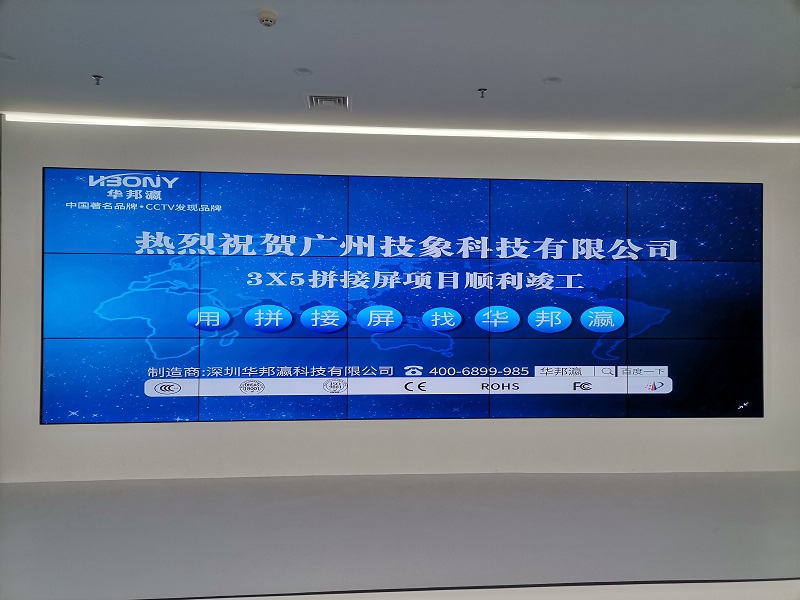 After the introduction of LCD splicing large screen, it can show users industrial design (ID), structure design (MD), hardware design (HW), software design (SW) and other solutions in a full range of high definition, and display the characteristics and application advantages of the self-developed ultra narrow band Internet of things system, so that users can better understand their own products and service direction, so that people can see at a glance.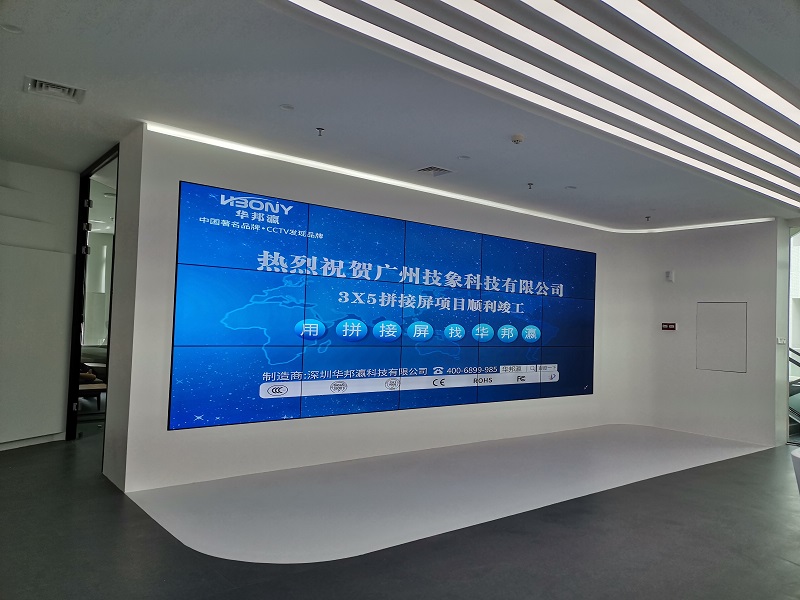 In addition, on the basis of intelligent high-definition and practical application, the LCD splicing screen, with its simple and fashionable style and modular design concept, can perfectly integrate the exhibition hall, burst out unique visual art, and virtually show the strength of technology and technology itself and corporate culture, leaving an excellent impression.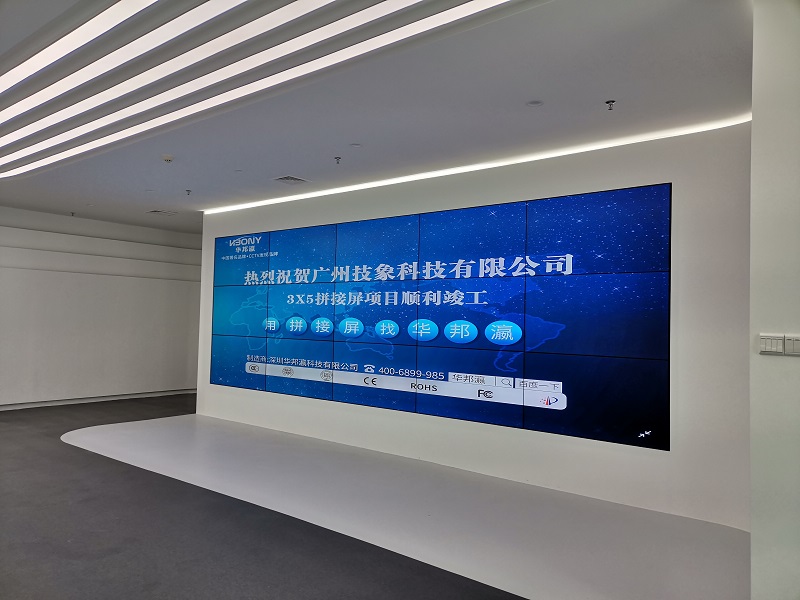 The splicing screen model of this project is hby-pj550p-2 (huabangying 55 inch 1.7mm LCD splicing screen), using Samsung industrial grade original a + panel, equipped with the industry-leading direct down LED backlight, the brightness distribution is uniform, and the display screen is naturally high-definition without distortion.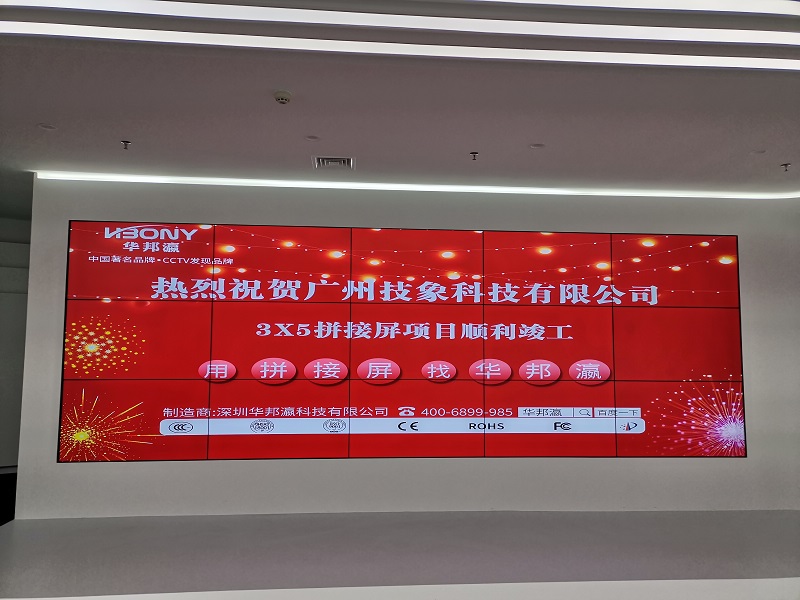 The 1.7mm ultra narrow edge seam has a better visual experience than the traditional large screen display equipment. It is suitable for use in exhibition halls, conference rooms and other places. The splicing screen will not appear distortion, blur, ripple and other conditions in the use process. It supports 7 * 24-hour uninterrupted operation, adapts to various long-time boot environments, and has high comprehensive cost performance.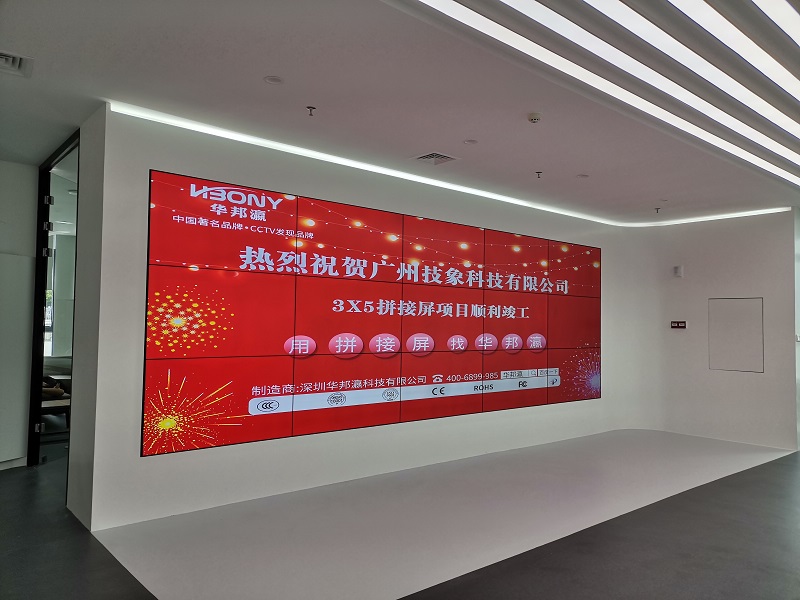 Detailed project parameters:
| | | | |
| --- | --- | --- | --- |
| Splicing unit | HBY-PJ550P | Response time | 6ms |
| Splicing seam | 3.5mm | Operating life | 70000h |
| Splicing specification | 3 * 3 / 55 inch | Installation mode | Cabinet type |
| Contrast ratio | 4500:1 | Brightness | 500cd/m² |
| Resolving power | 1920*1080 | Contractor | Hua Bangying |
At present, with the efforts of Winbond's professional engineers, the project has been successfully installed and passed the user's acceptance and put into use normally; Winbond once again appreciates the trust and support of Jixiang Technology, and sincerely wishes your company a prosperous development. Prospering.
Winbond, as a well-known LCD splicing screen brand manufacturer in China, has always adhered to the development concept of collaborative development with customers and mutual benefit and win-win development; continuous upgrading and innovation in products and services, if you have any technology about display large screens If you have any questions or needs, please feel free to consult, Winbond will try our best to serve you.