Customer description
West Chemical Group Co., Ltd., referred to as "Luxi Chemical", its main business includes: chemical, fertilizer, equipment manufacturing and other projects. Luxi Chemical Group was established in March 1998 and is located at No. 68, Luhua Road, Liaocheng City, Shandong Province; It is more convenient for the engineering team to carry out the construction. On July 30, 2018, Winbond Technology was found to purchase the splicing screen.
Project content
Project Name: splicing screen project of Shandong Luxi Chemical Industry Group
Product Name: lg55 inch LCD splicing screen
Seam: 3.5mm
Purpose: meeting room
Address: Shandong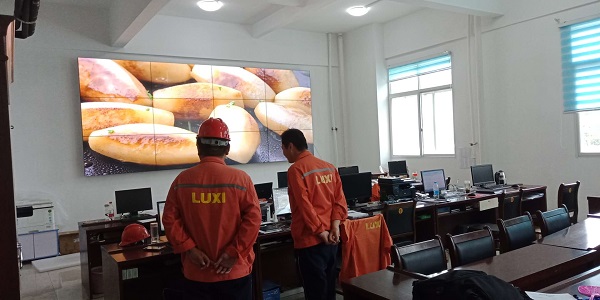 Installation and commissioning site of splicing project

Full color LED display screen is a display mode by controlling RGB semiconductor light-emitting diodes. Its general appearance is composed of many RGB three-color light-emitting diodes. Each pixel combination has RGB diodes. The full-color picture of different colors can be displayed by turning on and off of each group of pixel lights. Display screen used to display text, graphics, images, animation, market, video, video signal and other information.

Full color LED display screen is clear, uniform color, high brightness, using ultra-high brightness LED, long distance is still clear and visible. The result is good; the non-linear correction technology makes the image clearer and more hierarchical; the reliability is strong: the distributed scanning technology is used

And modular design technology, higher reliability and stability;
Multiple display modes are supported;
Easy to operate: using general video playing software makes the system operation very convenient.