Chongqing Jiangjin District TV station was established in 1985. It has a variety of TV channels, such as news integration, economic life, cultural tourism, etc., as well as a broadcast of the voice of Tianjin and Guangzhou. It has five new media platforms. It undertakes various responsibilities such as information dissemination, social service and public entertainment, enriches the spiritual and cultural life of the residents in Jiangjin District, and promotes the development and progress of the society.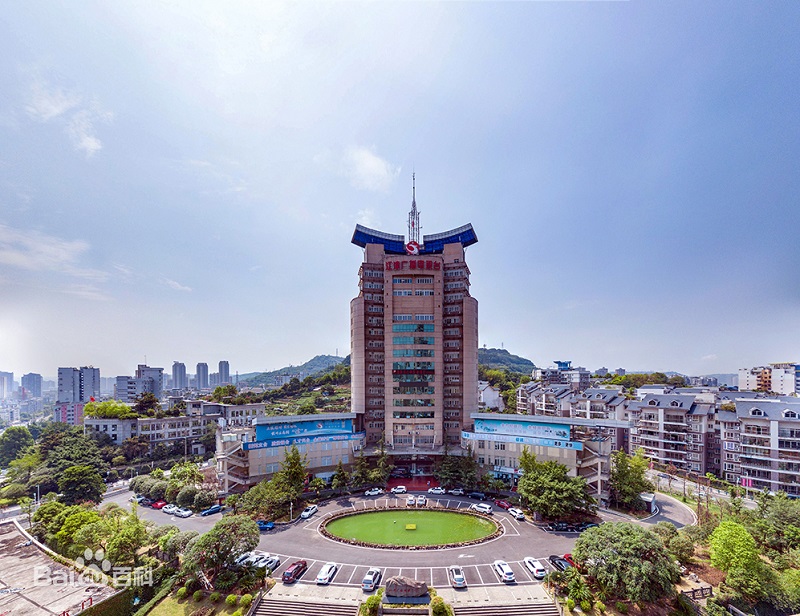 Recently, Chongqing Jiangjin district has introduced huabangying LCD splicing screen as a large screen terminal display device in the background, aiming to improve the service ability and information dissemination ability of TV stations, which is in line with the development characteristics of the times.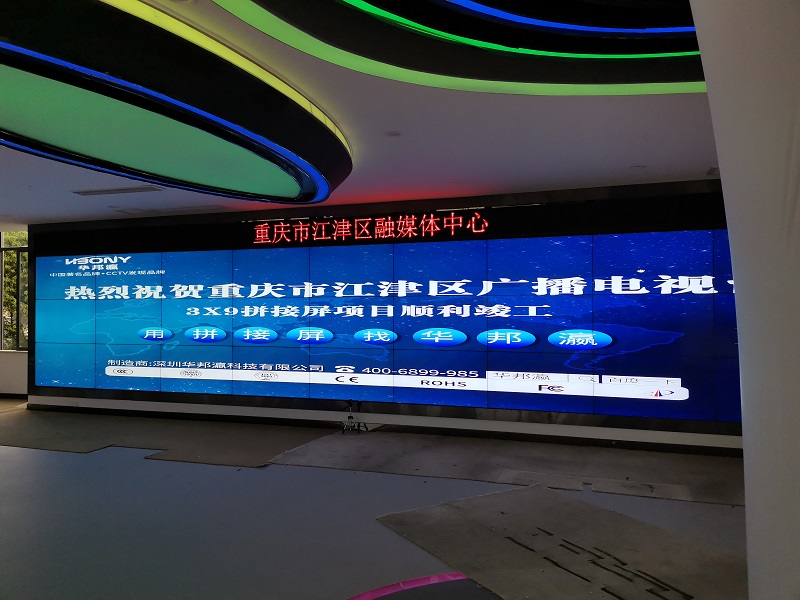 The introduction of large screen has realized the intelligent and visual system platform of content production, public opinion monitoring, major event reporting and command, which provides a strong support for enriching the business of the media center, content supervision and command scheduling. On the one hand, it not only adapts to the trend and trend of the new era, but also lays a solid foundation for better serving the masses in Jiangjin district Foundation, more with one stone.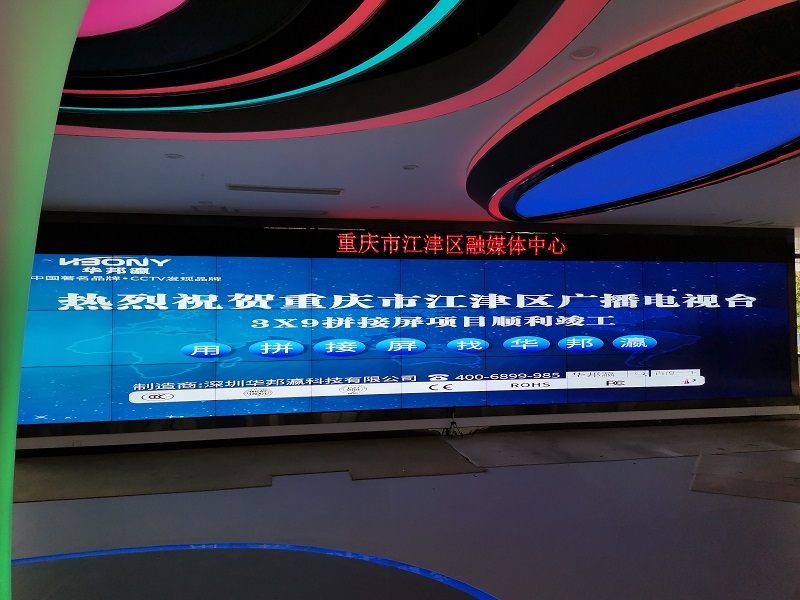 The LCD splicing unit of this project adopts hby-pj550p-3, industrial grade A + LCD panel, industry-leading direct down LED backlight, and ultra-high resolution 1920 * 1080 and clear contrast of 4500:1. The display is high-definition without distortion, delicate and divisible, color saturation and gorgeous, bright and no dark light; each pixel is exciting.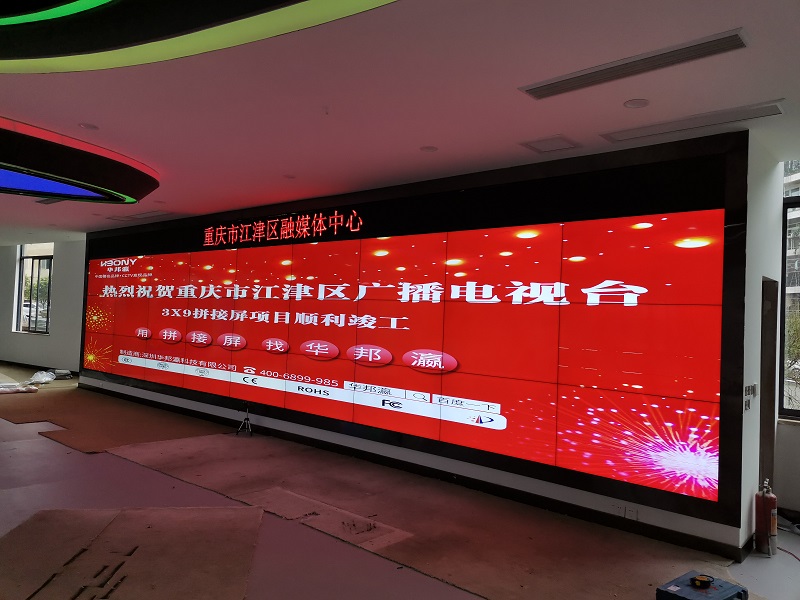 Hby-pj550p-3 also has innovative anti glare screen, which can effectively prevent dazzling glare, and has excellent visual experience; 6ms fast response, refuse to procrastinate, ensure the use efficiency; energy saving, environmental protection, no radiation, long life of 70000 hours and other characteristics, the same product has higher cost performance; it supports 7 * 24 hours long-term non damage operation, adapts to a variety of long-time boot environment, and has better application effect.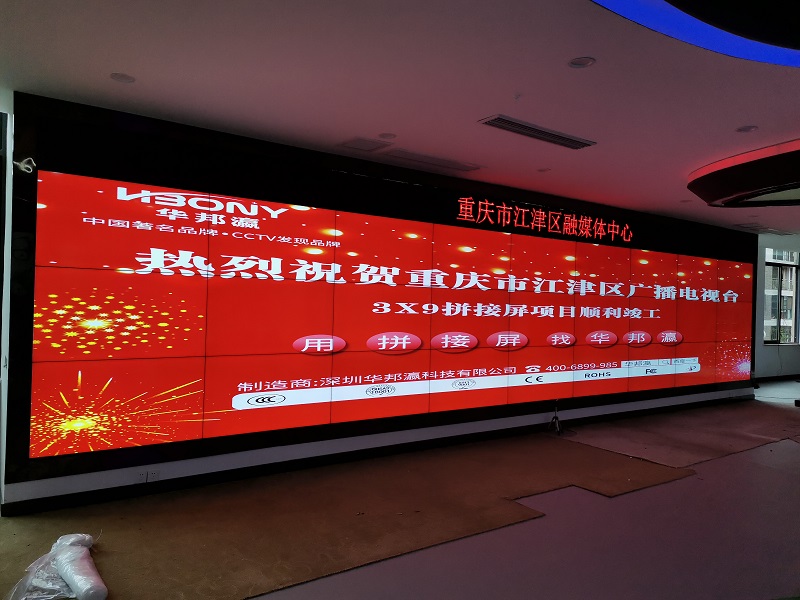 On the eve of the project installation, the design personnel of huabangying professional large screen display scheme formulated a 3 * 9 embedded splicing scheme according to the site data and environment provided by the relevant person in charge of Jiangjin District, which makes the overall effect beautiful, personalized and fashionable, and perfectly integrates with the interior decoration and collocation; it is more harmonious on the basis of practicality.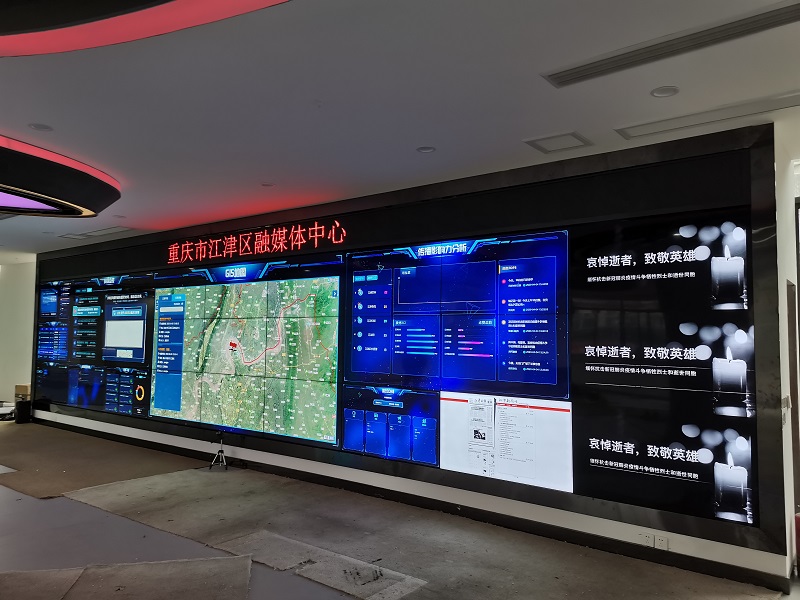 When the project started to install, huabangying professional installation engineer and hby-pj550p-3 went to Chongqing from Shenzhen. The engineers tested and investigated the factors affecting the use of splicing screen, such as the power supply system and line layout, and determined that there were no interference factors before installation, so as to ensure the customer's experience and reduce the worries.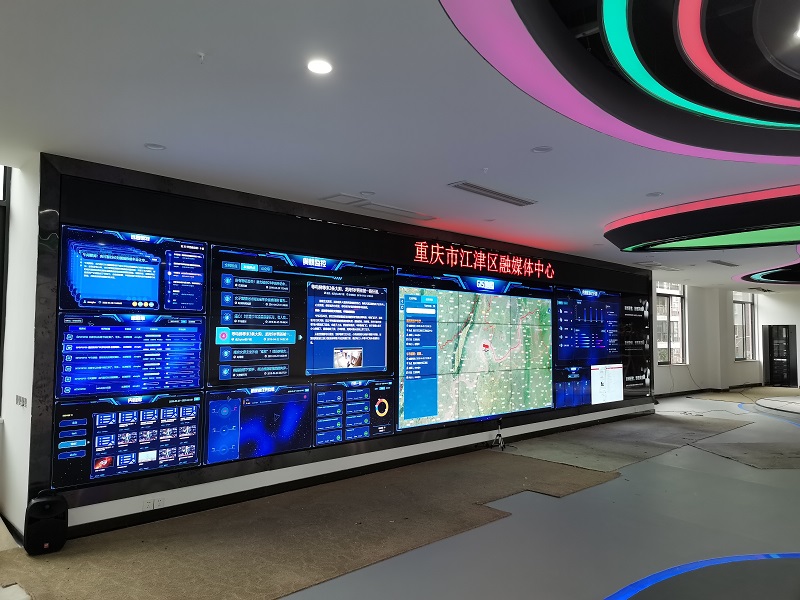 After the installation, the project successfully passed the verification and acceptance of the relevant person in charge of Jiangjin radio and television station. After a series of tests, it was put into use and completed perfectly.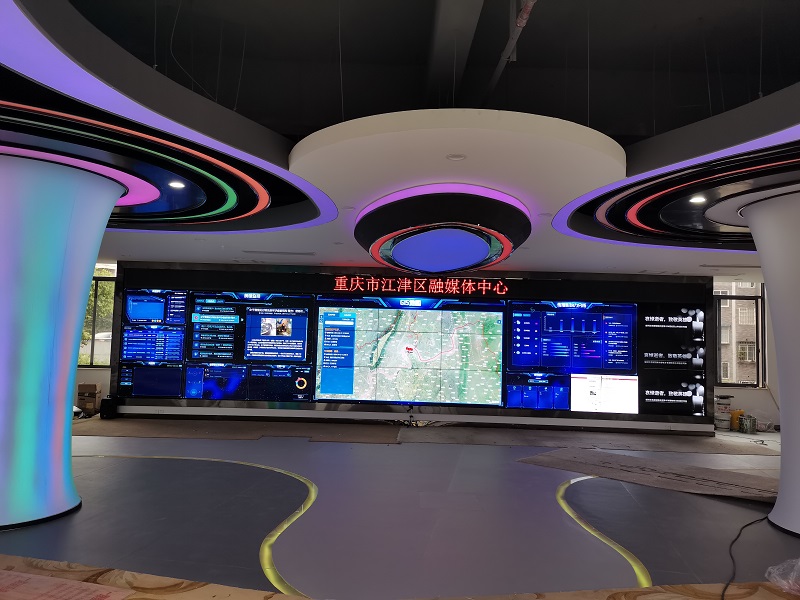 Detailed parameters of the project:
| | | | |
| --- | --- | --- | --- |
| Splicing unit | HBY-PJ550P-3 | Response time | 6ms |
| Splicing seam | 1.8mm | Operating life | 70000h |
| Splicing specification | 3 * 9 / 55 inch | Installation mode | Embedded |
| Contrast ratio | 4500:1 | Brightness | 500cd/m² |
| Resolving power | 1920*1080 | Contractor | Hua Bangying |
Huabangying technology is a modern high-tech enterprise specializing in the R & D, design, production and sales of intelligent commercial display products, and provides professional large screen display system solutions. The company has strong strength, rich experience in splicing screen projects, and supports door-to-door installation across the country. If you have relevant large screen needs or technical questions, please feel free to consult, and huabangying will do its best to serve you.