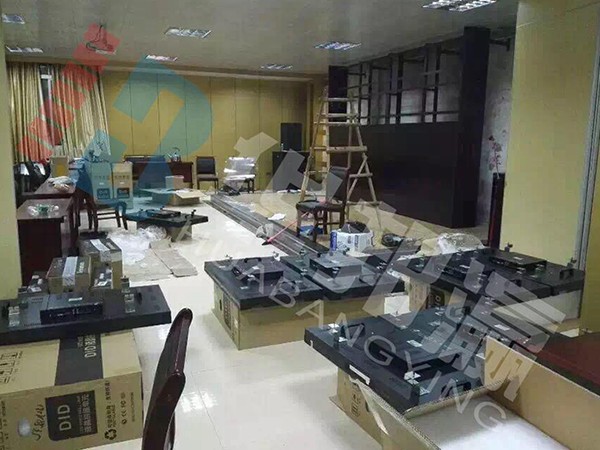 Case description:
The center of China's court logo is composed of Huabiao and Libra, and Libra is also a symbol of justice and fairness. With the development of the modern tense, judicial openness and transparency are particularly important. More and more courts choose large-screen splicing. The video wall is used to improve the credibility and supervision of court trials. Today we will show you the large-screen video wall system built by the centralized control center.
This project is a large-screen video wall system constructed by Shenzhen Huabangying Technology Co., Ltd. for the Centralized Control Center of Shangsi County People's Court, Fangchenggang City, Guangxi Province. It uses 46-inch 4*4 3.5MM splicing LCD splicing screens, and all court video signals pass Optical fiber transmission to the large-screen system of the information center realizes the function of digital court trial, real-time recording, editing and webcasting of plaintiffs, witnesses, judges, prosecutors, criminal suspects, and electronic evidence screens, meeting the needs of court trial audio and video archives, remote observation and leadership The need for online supervision.
After this large-screen system is put into use, it will play an important and vital role in strengthening digital information collection, information sorting, court trial command, and optimizing management. Through the data accumulation and collection of court trial information within a certain period of time, it can be used by the court for archive research and Practical teaching realizes the self-improvement and self-control of judges.
Adopt 46-inch 4*4 3.5MM splicing LCD splicing screen, HBY ultra-narrow-edge LCD splicing unit adopts Samsung original industrial-grade DID LCD screen, using the most advanced LED light source backlight system, the backlight color reproduction is good, the image is vivid, and the dots are Super dense distribution, uniform backlight brightness. The use of high-margin electronic components, unique intelligent color correction technology, make the colors more beautiful, natural use of advanced UV2A liquid crystal crystal arrangement technology: bright field, energy saving, ultra-high light energy efficiency, dark field without light leakage. Ultra-high contrast 6ms response Speed, smoother images, energy-saving, environmentally friendly, no radiation, long life, uniform brightness for long-term use, the backlight is made of glass-free materials, safe transportation, and the panel shell is firm and not easy to break. The LCD unit adopts the most advanced backlight technology at present, which greatly improves the overall display effect of the splicing unit and has outstanding technical characteristics. It comes from traditional LCD splicing through special optical processing technology, so it has all the advantages of LCD unit in display. It not only achieves high-definition and high-brightness, but also the color saturation of the picture is extremely high, and the picture quality is clear and delicate. Perfectly present the full-view court hearing scene.
At present, many courts in China have introduced large-screen digital court trial monitoring systems, using digital means to realize self-supervision, which fully embodies the theme of "efficiency and justice" and "judicial for the people" of the courts, and is to achieve fair judgments and improve court society. Effective means of credibility is also an important manifestation of transparency in law enforcement.