This LCD splicing screen manufacturer Huabangying project partner: Guangzhou Tianci High-tech Materials Co., Ltd. is a high-tech private enterprise specializing in functional materials for personal care products, lithium-ion battery materials, and silicone rubber materials. The company is located in Guangzhou Huangpu District Economic and Technological Development Zone covers an area of nearly 70,000 square meters, with a factory building area of more than 50,000 square meters, and is equipped with complete public engineering facilities.
A few days ago, in order to promote the production efficiency of workshop operations and timely investigate and analyze the problems in the current production process, the company introduced a set of large LCD splicing screens to Winbond Technology as the terminal display equipment in the conference monitoring room, which can effectively monitor workshop production. According to the situation, promptly retrieve relevant videos and cases, conduct conference exploration, data comparison, and implement problem-solving action plans.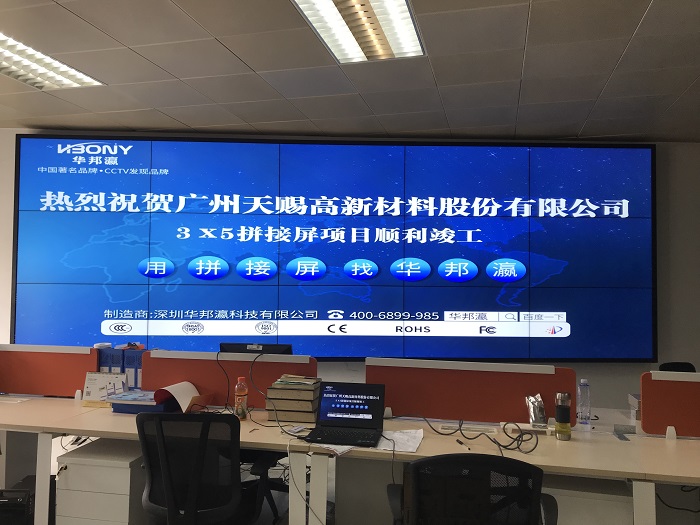 Winbond's LCD splicing screen uses industrial-grade original LCD panels and direct-lit backlights leading the industry. The color reproduction is good, the picture is clear, bright, vivid and delicate, and the full-screen display shows a very high-end Beauty and texture give people a different visual experience.
Project specifications:
Splicing unit: HBY-PJ460P
Splicing seam: 3.5mm
Splicing specifications: 3*5/46 inches
Contrast ratio: 4500:1
Resolution: 1920*1080, the picture is detailed, bright and followable.
Response time: less than 6ms, extremely fast response, refusal to procrastinate
Operating life: more than 70,000h, support various long-time startup environments
Installation method: cabinet installation, easy to maintain, simple and stylish, high-end atmosphere
Brightness: 500cd/m2
Contractor: LCD splicing screen manufacturer Winbond Ying Technology Co., Ltd., CCTV discovery brand, high-tech enterprise, famous Chinese brand.
Panel type: Samsung industrial grade S-PVA panel.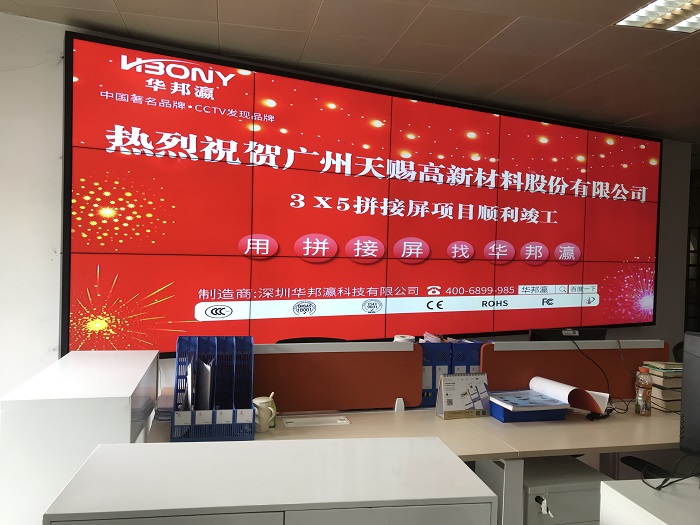 LCD also has the characteristics of energy saving, environmental protection, no radiation, long service life, etc.; it supports 7 * 24-hour uninterrupted work, adapts to various working environments requiring long-time startup, and has nearly zero maintenance cost. Compared with ordinary terminal display equipment, it has outstanding indoor display effect and cost performance ratio.
Installation environment introduction:
1. The wall can bear load. It adopts the wall mounted hydraulic front maintenance and installation, saving space and not daring to be fashionable, which is conducive to future maintenance。
2. The height of the splicing wall is h = 2.72m, and the length is L = 5.38m. According to the budget and site environment analysis, a total of 15 splicing large screens of 3 * 5 and 46 inches are formulated.(46 inch LCD splicing screenH≈57.8cm,L≈102.3cm)
3. The construction site environment is clean and free of dust; the ground for the installation of projection unit is flat and firm; the strong current and weak wire are separated by wire slot to prevent signal interference;
4. There is no direct strong light near the screen, so as not to affect the display of the splicing screen and cause reflection.
5. The power supply system on the installation site operates normally and is close to three-phase balance. The load power of each connection is basically the same, and the grounding is good, less than 4 ohm, which can ensure the circuit safety.
6. It adopts network video matrix access to meet the needs of monitoring and conference system, supports single screen and multi screen segmentation and overlay display, real-time monitoring and clear control, and supports multiple signal HDMI, VGA, DVI access.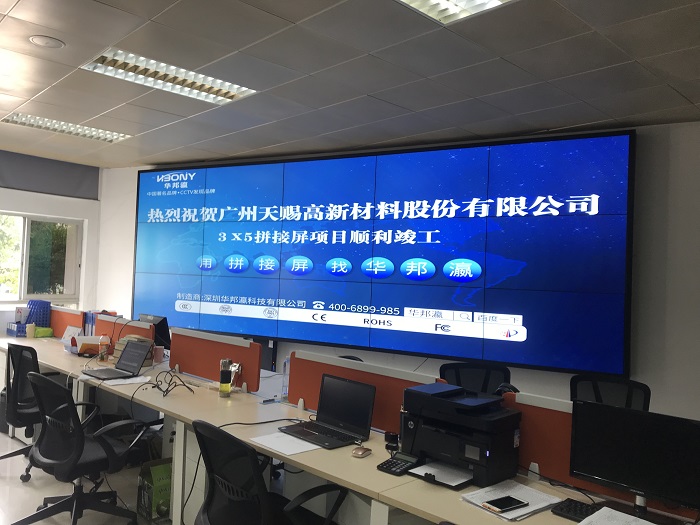 Now the project has been successfully completed. After verification, debugging and acceptance, it has been put into use, which greatly improves the working conference efficiency of Guangzhou Tianci high tech materials Co., Ltd., improves the quality of products produced in the workshop to a certain extent, and steadily improves the qualification rate. At the same time, it also conveys its corporate image to the partners, customers and franchisees of the company.

To serve customers as the purpose, collaborative development, common growth forward, has always been the LCD splicing screen manufacturer Hua Bangying's pursuit and business philosophy. In the future, huabangying will make great efforts to provide users with personalized terminal display scheme, high-quality products and services.