Guizhou specialty products include 365 unique green ecological agricultural products such as prickly pear fruit drinks, original bamboo fungus, mushrooms, bacon, fresh fruits and vegetables on the shelves. In order to expand sales, stimulate purchase desire, and display various special products; the sales market introduces a set of splicing large screens to the LCD splicing screen manufacturer Winbond Technology, as a display device for market display and promotion of agricultural special products.
The newly opened sales market of green agricultural products in Guizhou is guided by the government, adopts the market-oriented operation mode, and is mainly operated by powerful and experienced partners. The sales market covers a wide area, with sales area, exhibition area, cold chain area, storage, distribution logistics and other areas. It aims to help poor areas expand the agricultural product market and get rid of poverty The purpose of poverty and prosperity.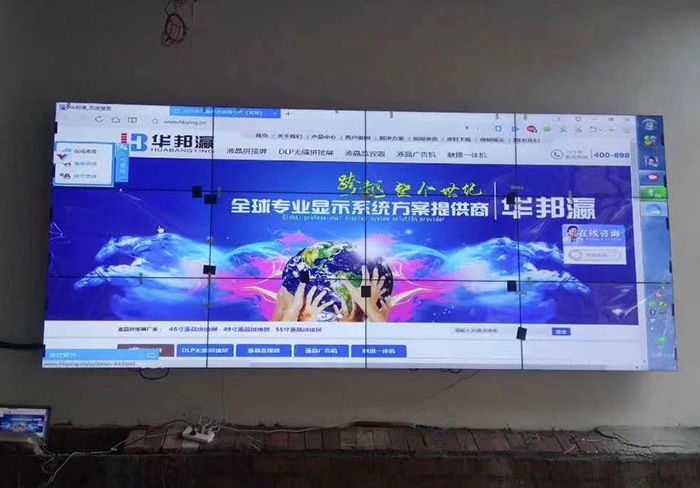 Project specification:
Splicing unit: HBY-PJ490P
Splicing seam: 3.5mm
Splicing specifications: 3*4/49 inch
Contrast ratio: 4500:1
Resolution: 1920*1080
Response time: less than 6ms
Operating life: more than 70000h
Installation method: wall-mounted, hydraulic front maintenance bracket
Brightness: 500cd/m2
Construction unit: LCD splicing screen manufacturer Winbond Ying Technology
Panel type: LG industrial grade S-IPS panel
The LCD splicing screen has a direct-lit backlight that is leading the industry, and the displayed image is saturated in color and clear lines; it makes the displayed agricultural products more distinctive and eye-catching; 1920*1080 ultra-high resolution and 4500:1 clear contrast , High-definition, no distortion, add a touch of features; 6ms extremely fast response, refuse to wait for procrastination; 178 ° super wide viewing angle; screen display at a glance, once you visit the sales market, you can see it; low energy consumption, low operating cost, support 7* It runs uninterrupted for 24 hours, adapts to various long-time start-up environments, low maintenance cost in the later period, and higher cost performance.
Installation environment introduction:
1. The height of the splicing wall is H=3.41m, and the width L=5.36m. According to the requirements of the early warning center, the splicing screen is lower overall, leaving gaps on the left and right sides. A 3*4 49-inch LCD splicing scheme was negotiated. (49-inch splicing screen H≈60.7cm, L≈107.4cm)
2. The indexes of the power supply system are normal and the grounding is good. The strong cable and the weak cable are separated from each other with a trunking, which will not cause interference; there is no direct strong light directly into the splicing screen, and the conference room has a stable heat dissipation system.
3. The wall-mounted hydraulic front maintenance bracket is used for installation. The installation process is easy and convenient. It fully supports front maintenance and disassembly. It has up and down, left and right, front and rear adjustment functions; each front maintenance bracket can be ejected and pushed in separately without affecting the normality of other displays Use, if there is a problem with a single screen in the future, it is also conducive to maintenance and does not need to be disassembled as a whole.
4. Splicing processor access, supporting DVI, HDMI, HD-SDI and other different formats of video signal input; with single or multi-screen display, free division, setting the screen playback mode, rotating display of agricultural products back and forth, and regional characteristics.
The project has now been successfully completed. After passing the trial work, verification, and acceptance procedures, the sales and marketing unit has expressed extreme recognition and praise to the LCD splicing screen manufacturer Huabangying. As a leader in the terminal display industry, Winbond Ying will continue to provide more valuable customized solutions for more users with excellence, innovation, all-round and one-stop one-stop.